Design styles
I read a blog post recently written by Dura Supreme on the popular style called "transitional" and how it can be defined. Reading this, I realized that most people who are not designers (and even some designers) do not have a clear understanding of the different design styles. Below is a quick summary and there are many, many, MANY more styles that I have not even touched on! Traditional- This design style usually uses heavy ornamentation and detailing. It typically is based on European styling. The lines are curved and pieces are heavy.
Transitional- This design style combines that of contemporary and traditional designs. We may see the curve and heavy furniture in a linear space; modern furniture in a classic space with heavy ornamentation, or a more subtle combination of the two. This tends to be enough of a blend to allow a space to function formally or casually.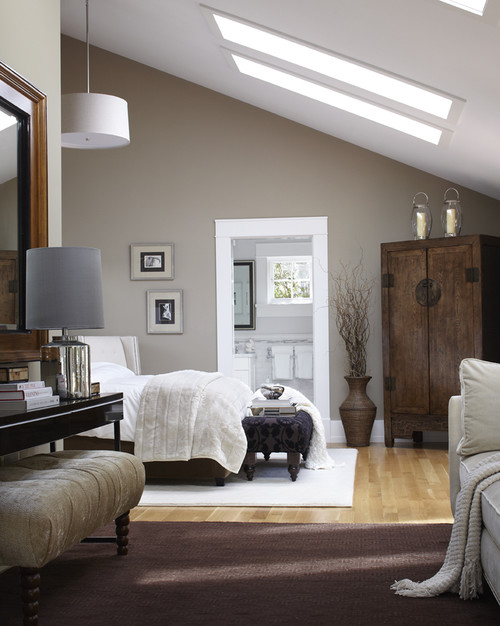 Modern- This is a style that is commonly mistook for contemporary and vice versa. Modern is not necessarily contemporary and contemporary is not necessarily modern. With modern design we see black, white, and bold colors. This style offers strong horizontal lines. Modern design also plays with minimalism and a strong contrast in scale.
Contemporary- This design style takes a bit from modern, rustic, industrial, and traditional. We see the minimalism, but not to the same extent that it existed in modern. The lines are still emphasized in length, but have softened slightly. The cool, shiny finishes used in modern are now a bit more wabi sabi (roughed up or softened with the use of natural products). Enter wood, bamboo, stone. Contemporary is clean, but warm and welcoming.
Craftsman- We may also hear craftsman style defined as prairie style, mission, arts and crafts, or Stickley. These are similar, but not always the same. The main "ingredients" that hold these three together however, are that of the use of honesty in the materials. Is it wood? Then, it looks like wood. No laminate disguised as wood, and no metal bolts covered in wood caps. We want to see how it was built, how things are held together in this style. Details are carefully thought out because there is no hiding in this design style. These homes have an open plan, earthy color tones, exposed beams, and wide trim. Many people now are doing white painted kitchens in a craftsman home... this in itself is not craftsman style as a true craftsman home will not have painted the wood.
Rustic- I think rustic is the most clear style to establish. What do we all think of when we imagine rustic? A log cabin? Knotty pine? Slate? Horns or a head on the wall? These are all very clear signs of a rustic design. Think wood and stone with pieces that are heavy and large in scale.
Check back soon, and I'll post about a few more design styles: Ecclectic, Mediterranean, Midcentury, Farmhouse, and Industrial!